"A cogent breakdown and sendup of modern political discourse...Entertaining antics and Hallberg's snappy prose make for a very engaging read."—Kirkus Reviews

The Piketty Problem
or
The Robots Are Coming, The Robots Are Coming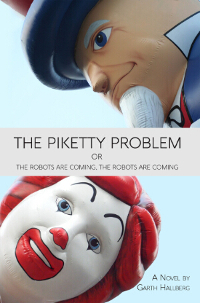 There's trouble brewing—bigly— in ritzy Canaandale, NY, during the run-up to the hotly contested 2016 presidential election.




Suzanne Dealy is an anxious political progressive with a flair for the dramatic, and a devotee of Thomas Piketty, the famous French economist who documented the corrosive wealth gap in America. She's currently suffering from a listless libido, brought on by her Trump-supporter husband, whose solution to "the minimum wage problem" in his 26 McDonald's franchises is to replace his inconvenient workers with "McRobots."




After a bitter quarrel about his lack of empathy for his workers, Suzanne attempts to embarrass her husband into a change of heart by carrying out an innovative shoplifting scheme at the local supermarket, involving Amazon air-pillow packaging and tight jeans. But she discovers her libido's not so listless when she's "saved" by Steve Harris, a job-eliminated ad exec and fellow Piketty disciple who's going through a trial separation from his go-getter, labor negotiator wife.




Suzanne and Harris join his idealistic daughter and her Brooklyn artist boyfriend to launch "the Piketty Brigade" to fight against income inequality and sabotage her husband's dream. The highlight of the Brigade's performance-art demonstration is a battle of two giant Macy's Thanksgiving Day Parade balloons—Ronald McDonald versus Uncle Sam. When a shot rings out and the loser sinks to the ground, all three couples are forced to decide how they'll deal with the advent of the robots, as well as make their choices about cementing their relationships or breaking up permanently.

—From US Review of Books

"There is plenty of drama built into this story, but the driving source of conflict is the concept of income inequality and the influence of Piketty's ideas. Whether it's the wealthy trying to decide what the poor deserve to make or the younger generation struggling to make a living, the idea of minimum wage and a healthy living wage drive the action from beginning to end...The dynamic cast of characters draws the reader in and presents multiple perspectives to a challenging and necessary debate which is never heavy-handed or boring in the slightest. At times darkly comic but always certainly relevant to modern issues facing Americans, this story succeeds in being both entertaining and thought-provoking."
— From Self-Publishing Review

"An astute and well-written exploration of the issue of the mechanization of the workforce… the book riffs on the state of modern consumerism and the pitfalls of a world wherein the working class are unable to earn living wage in a world that demands unsustainable consumption… It does this effectively without being too heavy-handed, with a subtle satirical bite to the material, and presents a solid case through a focused cast of relatable characters facing a scarily believable scenario."