David vs. Goliath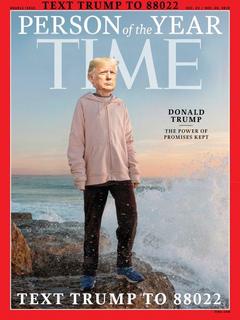 December 18, 2019
It's not easy to keep politics out of a discussion of climate change. It's particularly difficult as I write this post while watching the historic impeachment proceedings against a president who is the point man for climate change deniers. So I will not try.
Immediately after President Trump lost out to climate activist Greta Thunberg as Time magazine's Person of the Year, he mockingly tweeted, "So ridiculous. Greta must work on her Anger Management problem, then go to a good old-fashioned movie with a friend! Chill Greta, Chill!"
To further assuage his perceived humiliation, @TrumpWarRoom released this mock-up of what the Time magazine cover should look like, along with the message, "When it comes to keeping his promises, there's only one Person Of The Year." According to the release, those promises he's already kept include "America First Trade Deals" and "Building the Wall."
As a reminder, Greta is a 16-year-old Swedish schoolgirl who has been diagnosed with Asperger's syndrome, a form of autism. At the United Nations Climate Action Summit in September, she criticized world leaders for slow walking the fight against climate change, saying, "you are failing us, but the young people are starting to understand your betrayal. The eyes of all future generations are upon you, and if you choose to fail us, I say, we will never forgive you."
President Trump is the 73-year-old president of the United States. After his last annual physical in February, his personal physician declared him to be in "very good health." Nonetheless, he displays all the symptoms of Narcissistic Personality Disorder, which according to the Mayo Clinic is "a mental condition in which people have an inflated sense of their own importance, a deep need for excessive attention and admiration, troubled relationships, and a lack of empathy for others." He is also the husband of Melania Trump, who has launched an anti-cyberbullying initiative, "Be Best."
So what have we learned from these sparse facts, other than, arguably, our president has more mental health issues than Greta? He has a skinnier neck than Adam Schiff, he would look better if he lost sixty or seventy pounds, and he and Mrs. Trump don't talk.
What no one had to tell us is that David defeated Goliath. Or that President Trump is a bully, he is prone to exaggeration or outright lies, and he sullies the dignity of his office and the reputation of our nation.
Go Greta! Go Nancy!