His 2020 Campaign Message: The Robots Are Coming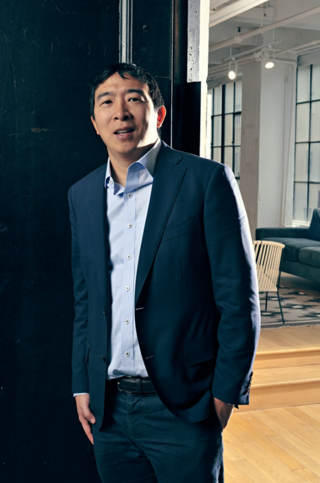 February 19, 2018
What follows, without editorial comment, are excerpts from an article by Kevin Roose that first appeared in the business section of the
New York Times
, February 10, 2018.
Among the many, many Democrats who will seek the party's presidential nomination in 2020, most probably agree on a handful of core issues: protecting DACA, rejoining the Paris climate agreement, unraveling President Trump's tax breaks for the wealthy.

Only one of them will be focused on the robot apocalypse.
That candidate is Andrew Yang, a well-connected New York businessman who is mounting a longer-than-long-shot bid for the White House. Mr. Yang, a former tech executive who started the nonprofit organization Venture for America, believes that automation and advanced artificial intelligence will soon make millions of jobs obsolete — yours, mine, those of our accountants and radiologists and grocery store cashiers. He says America needs to take radical steps to prevent Great Depression- level unemployment and a total societal meltdown, including handing out trillions of dollars in cash.
"All you need is self-driving cars to destabilize society," Mr. Yang, 43. In just a few years, he said, "we're going to have a million truck drivers out of work who are 94 percent male, with an average level of education of high school or one year of college."
"That one innovation," he continued, "will be enough to create riots in the street. And we're about to do the same thing to retail workers, call center workers, fast-food workers, insurance companies, accounting firms."
"The reason Donald Trump was elected was that we automated away four million manufacturing jobs in Michigan, Ohio, Pennsylvania and Wisconsin," he said. "If you look at the voter data, it shows that the higher the level of concentration of manufacturing robots in a district, the more that district voted for Trump."
Erik Brynjolfsson, the director of M.I.T.'s Initiative on the Digital Economy and a co-author of
The Second Machine Age
, praised Mr. Yang for bringing automation's economic effects into the conversation.
"This is a serious problem, and it's going to get a lot worse," Mr. Brynjolfsson said. "In every election for the next 10 or 20 years, this will become a more salient issue, and the candidates who can speak to it effectively will do well."
Mr. Yang knows he could sound the automation alarm without running for president. But he feels a sense of urgency. In his view, there's no time to mess around with think-tank papers and "super PACs," because the clock is ticking.
"We have five to 10 years before truckers lose their jobs," he said, "and all hell breaks loose."
You can read the entire article here. For a more entertaining but equally informative take on the same issue, please click here.