March Madness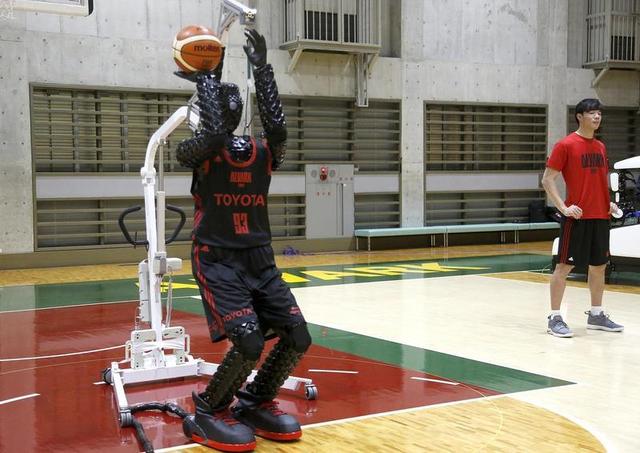 April 4, 2019
When I wrote The Piketty Problem, subtitled The Robots Are Coming, The Robots Are Coming, my intention was to tell an entertaining story about the depressing outlook for low-income wage earners in an increasingly AI world. I and everybody else thought that robots would replace workers with minimal skill sets doing highly repetitive tasks, such as flipping burgers at McDonald's. And I still believe that to be the case, even if reality is starting to look like it can outstrip art.
No, the basketball player in the picture is not Stephen Curry or the latest one-and-done Duke star, but a robot named Cue 3 developed by Toyota, of all companies. The six-ten robot made five of eight three-pointers in a demonstration in Tokyo last Monday. True, no player was defending him, so arguably, they were nothing more than long-range foul shots. And the cable that tethers him to what appears to be his brain, would surely be an impediment on the court.
Nonetheless, Cue 3 demonstrates the potential for a highly-skilled machine capable of performing constantly changing tasks. According to a Toyota spokesman, he/it has a good visual acuity and an understanding of the math that can predict the ball's path and the propulsive force necessary to get it through the hoop. This is way beyond flipping burgers. Perhaps Cue 3 is merely Toyota's solution for a driver for autonomous vehicles, or a prototype of a next-generation military recruit. But if robotics can come this far this fast, one has to ask, how far can they ultimately go?
If you're wondering, yes, Monday was April 1, but I'm not sure how the International Date Line affects the calendar, or if the Japanese have adopted April Fool's. But the demonstration was covered by many reputable/Fake news agencies and I am inclined to believe what was reported and my own eyes. Here's the video!